The Best Makeup Moments Of The Week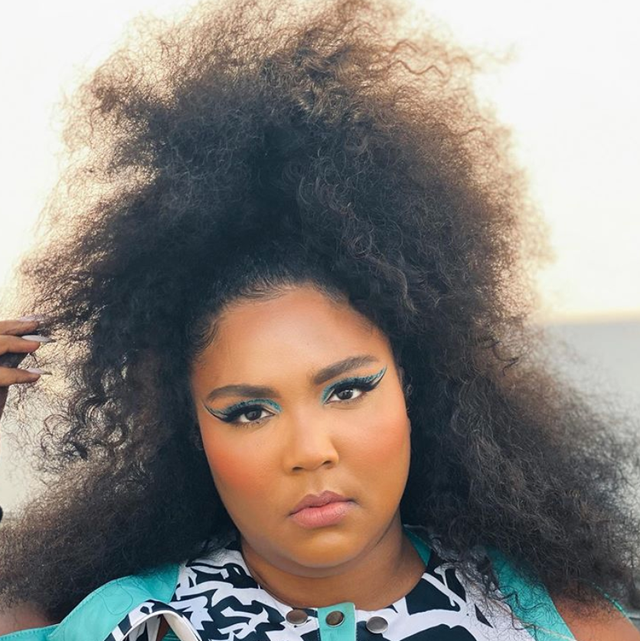 You're scrolling through Instagram and there it is: the most beautiful face beat of any and all face beats. If you're like us, this happens daily and at times, hourly. From ASMR foundation applications to wings so perfectly drawn you think a protractor was involved, here are the best beauty moments of the week.
Purple iridescent opal, seafoam green, and sky blue make for the world's most beautiful candy-meets-creamsicle-meets-your-eyelids facebeat. The best part of this look is that you can recreate it right now. Fenty Beauty Global Makeup Artist Priscilla Ono added a tutorial to her Instagram highlights here.
Sooo, what are you waiting for?
The Muse: Salem Mitchell
The Artist: Priscilla Ono
The Timestamp: January 4, 2o20
The Tools:
Fenty Beauty Snapshadows Eyeshadow Palette in Pastel Frost, $25 ; sephora.com
Fenty Beauty Match Stix Shimmer Skinstick in Confetti, $25; sephora.com
Fenty Beauty Glosse Posse Mini Set, $42; sephora.com
This makes me want a gold shimmer real bad. The touch of inner eyeshadow and pouty pink lip compliment her gorgeous beach blonde highlights perfectly. Elle Woods would be very, very proud.
The Muse: Jennifer Coolidge
The Artist: Vincent Oquendo
The Timestamp: January 8, 2020
The Tools:
Maybelline New York Expert Wear Eyeshadow in Gold School, $7; amazon.com
That flick of eyeliner at the end might be the most satisfying thing we've seen all week. One could say it's "the perfect sunset" to your week. L'Oreal Paris Global Makeup Director Val Garland shared a pro tip on perfecting your very own eyeliner wing: "To make your eyeliner last all day (and under studio lighting) draw over your lines, perfecting as you go, with a waterproof gel liner."
The Muse: Emily Driver
The Artist: Val Garland
The Timestamp: January 7, 2o20
The Tools:
L'Oreal Super Liner Gel Intenza in Pure Black, $22; amazon.com
The ultimate cool girl has now created the ultimate lazy girl face beat. Katie Jane Hughes, HRH of dewy skin, broke down the easy steps and products she used to create her blush and terra cotta palette. It's an easy face to recreate that makes you look like you've spent hours at your vanity, without actually having to spend hours at your vanity.
The Muse & Artist: Katie Jane Hughes
The Timestamp: January 6, 2o20
The Tools:
Revlon Matte Lipstick in Pick Me Up 003, $9; amazon.com
Make Up For Ever Color Pencil in Limitless Brown, $18; sephora.com
Chanel Le Volume Macara, $32; nordstrom.com
Glossier Brow Flick in Black, $18; glossier.com
The man behind Lizzo's flawless makeup looks, Alexx Mayo, has done it again. The black and teal color choices give off Euphoria cheerleading team vibes with a mix of Sonic the Hedgehog. Also known as our two energy sources for 2020.
The Muse: Lizzo
The Artist: Alex Mayo
The Timestamp: January 5, 2o20
The Tools:
Urban Decay Heavy Metal Glow in Soul Love, $18; urbandecay.com
Urban Decay 24/7 Glide- On Eye Pencil in Deep End, $22; urbandecay.com
Lilly Lashes in Miami Lite, $20; amazon.com
["source=elle"]