Lift at shopping complex not working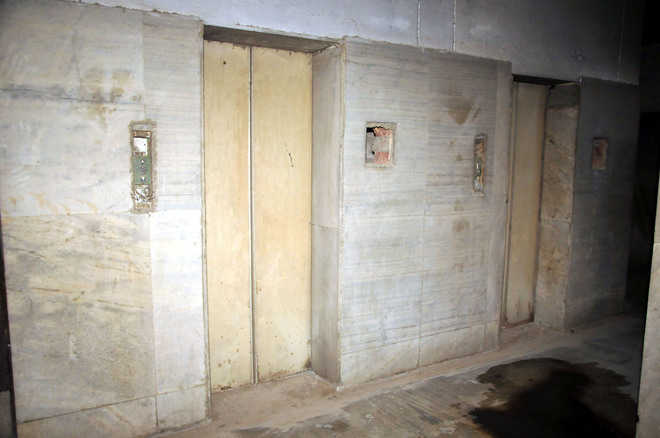 Amritsar:
The Nehru Shopping Complex has only one lift and that too has not been functioning for quite some time. The complex, being run by the Amritsar Improvement Trust (AIT), has a provision for four lifts, but the authorities concerned installed only one.
A shopkeeper, Surjit Sharma, says that there was a proposal for the installation of a cube lift worth Rs 12.50 lakh eight years ago but the plan couldn't materialise.
Raised in 1990s, the multi-storied shopping complex has 376 shops and a large number of these are still unoccupied. Majority of the shopkeepers blame the non-functional lift for the flop show of the complex. According to them, the lift service has never been operational since its inception. In the absence of easy access, customers don't show interest to visit the upper storeys. Hence, investors don't dare to invest money in opening shops and offices on the upper floors.
Heaps of garbage lie scattered at the site where the provision for lift installation was made. Stink emanates from the garbage round the clock, discouraging visitors from visiting the market, said a visitor, Malkiat Singh.
Despite being amply spacious and equipped with multi-storey parking facility, the AIT has failed to market its shops. On the other hand, private plazas and shopping malls at the Lawrence road and the adjoining Mall road are abuzz with business activities.
AIT officials say there was a proposal to run the lifts in partnership with the association of the complex, but they refused. AIT Chairman Dinesh Bassi said, "There is a proposal to renovate the entire Nehru Shopping Complex.  Installation of lifts will be a component of the renovation plan."
["source=tribuneindia"]